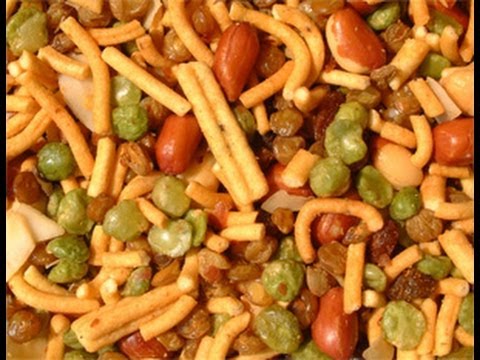 BHUJA MIX
Bhuja mix originates from India. It is a generic name for a snack mix that is widely popular throughout India and now a global phenomenon. Originally called bhujia, in recent times it has been shortened to bhuja. Many types of spicy Indian snacks are combined to make the bhuja mix. They are also commonly known as Bombay Mix, Mild Mix and Hot Mix. Bombay mix is an Indian snack consisting of a medley of dried, spiced ingredients. The most important component of Bombay mix, chickpea flour noodles (sev), are made from a laborious process.

In ancient India families use to roast or deep fry wholesome grains, nuts and pulses, blend them with their favourite spices and herbs. Bhuja mix was a wholesome and convenient snack therefore widely used by travellers.

Today, there are numerous combinations of this ubiquitous Indian snack mix. Bhuja mix range looks healthier because of using wholefoods such as chickpeas, peanuts, dried peas, sultanas and other snacks foods made from chickpea or multigrain flour. The bhuja mix recipes are endless to creating different version of the addictive nibbles. Often, bhuja mix names, and taste may be territorial. The taste, heat level and spice content of the snacks may reflect the district recipe. Indian bhuja mix is often as salty as crisps and corn chips. Therefore, it makes you want to drink more.

Bombay mix is an Indian snack consisting of a medley of dried, spiced ingredients

The bold savoury snack is most commonly consumed with a cup of hot tea for morning and afternoon snack time. It is also enjoyed with any main course Indian cuisine. Indian bhuja mix is rich in protein and lower in carbohydrates than many other snack mixes. They are delicious blend, scrumptious and convenient snack food. Bhuja mix snacks are great on its own and it is perfect for parties or impromptu entertaining.

It is fun to make this dish from scratch at the comfort of your home. However, nowadays this snack is being increasingly bought from stores. There is abundance of Indian snack mix in the market with imported and locally manufactured products.

With the increased consumption as mainline snacks there are many more brands in the market. The brand competition has raised the bar for quality, taste and value for money. Therefore, there are many quality and delicious bhuja mix range for you to enjoy. A great tasting treats like nothing you have ever experienced before. These snacks are the old favourites and you can break from the usual and serve an array of sumptuous Indian snacks at your next get-together. It is the food that you serve can make the difference between a good and average party. Therefore, your guests love the difference and you will be pleasantly surprised.