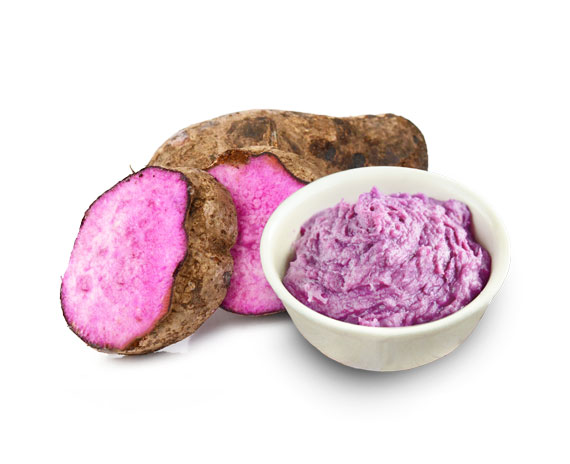 Frozen Tropical Root Crops
Frozen tropical root crop demands are growing for dietary energy and cultural celebration. There are studies on better agronomics practices to enhance total production for frozen cassava, taro, coco-yams and yams. Frozen root crops are now a staple for many migrant communities in Australia, New Zealand and North America. The market for frozen root crops is growing in south-east Asian countries too. Technological advancement in the freezing process is crucial form of produce storage.
Frozen Cassava
Cassava is exported throughout the world in three forms. For human consumption, animal feed and ingredient. The cassava export markets are primarily Australia, New Zealand, and North America for human consumption. Export is also huge to Europe for ingredients. There are a number of important but smaller markets in Asia, such as Japan, Korea and China. Frozen cassava in the forms of whole food and processed chips have grown exponentially in the last decade. The potential toxicity, if not cooked properly due to the presence of cyanogenic glucosides and perishability makes processing and freezing of this crop essential. Frozen cassava is easier to store and holds for longer than previous storage methods.
Frozen Taro
Taro is a large tuberous vegetable. It has white flesh with an earthy taste and a pleasant texture. Taro can be used in the most recipe that calls for potatoes. It has an important presence and a long tradition in the Pacific Asia region. The primary export markets for Pacific island countries are Australia, New Zealand and North America. The biggest other market is Japan with smaller volumes going into Hong Kong and Singapore. However, the Pacific contains a number of taro importers. Frozen taro market is growing for human consumption for daily meals or cultural celebration. In fact, presently the demand is more than production.
Frozen Coco-yams
Coco-yams are lesser-known of nutritious root crops whereas potato is a staple in most households. The tropical plant has many valuable features.
Coco-yams contain dietary fibre, starch, natural vitamins and many helpful nutrients for a healthy lifestyle. It also has vitamins B, C and E in the plant. Coco-yams are rich in protein and also contains minerals such as calcium, copper, manganese, magnesium, thiamine, riboflavin, and niacin. Frozen coco-yams are gaining popularity as food because of the nutrients.
Frozen Yams
Yams are one of the most confusing root crops with sweet potatoes. Most grocer or fruit shops mark it incorrectly too. Yams are white or purple and both varieties are nutritious and tasty. They are both tuberous root crops which come from a flowering plant. However, they are not related and actually don't even have a lot in common. Yams are origins are from Africa and Asia. Frozen yams are a good source of vitamin C. It has 27% of your daily vitamin C requirements. It helps to boost your immune system. Yams also contain plenty of fibre, vitamin B, potassium and manganese.
The growth in frozen yams consumption is encouraging for the producers
Frozen Root Crops
Like the growth in most frozen foods, root crop producers have embraced the freezing process to enhance their agribusiness. Today, frozen root crop market is huge and growing. There huge potential for the Pacific island nations to capitalise on this as most of their crops is organically grown which has better taste and nutrition.