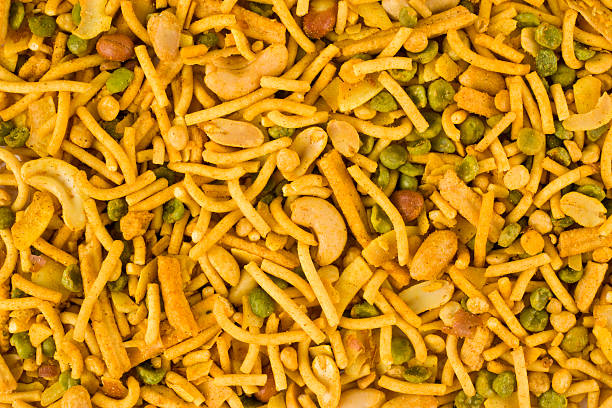 SINGHS SNACK RANGE
Singhs snacks are Australian made, owned and operated by Australian family. With origins from India, these snack range are spicy, delicious and wholesome. Typically, Indian snacks are many centuries old and generic name was bhuja. Singhs snacks are made with authentic Indian recipe used for generations. This type of snacks is convenient, nutritious and widely consumed throughout India. The range of snacks is made with whole foods and gaining popularity throughout the world.
Natural Goodness
Singhs products are made with wholegrains and natural herbs and spices. Authentic cooking techniques extract the full flavour in the crispy snacks. Singhs products are shelf stable, has low Glycaemic index and made without added MSG.

Wholegrains are important sources of many nutrients including protein and fibre. It contains vitamin B complex and minerals. Hence, grains are good source of thiamine, riboflavin, niacin and folate; and minerals such as iron, magnesium and selenium. Therefore, a diet rich in whole grains has been shown to reduce the risk of heart disease, type 2 diabetes, obesity, and some forms of cancer. However, wholegrains do contain carbohydrates. It is an essential macronutrient and a must have for a healthy eating plan. Carbohydrates should be balanced with fat and protein in your diet.
Wholegrains
Indian snacks are made with wholegrains and multigrain flour made into a paste. Multigrain noodles may be made from chickpea, maize, rice or pea flour and a combination of flours. Wholegrain in the mix are peas, chickpeas, roasted peanuts, and juicy sultanas.

Wholegrains provide fibre, a healthy plant-based protein, vitamins, minerals, and a variety of phytochemicals that will improve your health. It is recommended to eat grains every day. Wholegrains have all of the parts of the original kernel such as bran and germ. Fibre is one big reason to eat wholegrain. Wholegrains not only help prevent your body from absorbing 'bad' cholesterol, they may also lower triglycerides, both of which are major contributors to heart disease.
Snacking Time
Snack time in anytime, anywhere. Singhs snacks are perfect for a planned party, morning/afternoon tea or impromptu entertaining. The range has plenty of varieties and character for great entertaining and pure indulgence. These snacks can be eaten as part of a meal or as a standalone snack. They are spicy, crunchy and full of Indian flavour aroma that is created with natural herbs and spices.
Delightful Range
Singhs delightful range of snacks is good for every entertaining occasion. It is perfect to celebrate functions, religious festivals and impromptu geto together. Most Singhs snacks come in two heat levels to suit every consumer. You can enjoy the spicy and crunchy snacks in mild and hot flavour. Singhs Mix is the signature product contains wholegrains peas, peanuts, and noodles also known as sev that is made with nutritious chickpea flour tastefully blended with natural spices and herbs.

Bombay mix is absolutely delectable which includes juicy sultanas and chura mix is crunchy and delicious. Kabul channa mix is an excellent nutritious whole grain snacks that is made with whole chickpea and garden peas. Singhs range is extensive and are sev in three thickness giving varying flavour, murku which is a south Indian delight, spicy Sri Lankan mix and fried peas snacks including chicken flavoured peas, which is absolute delicacy.