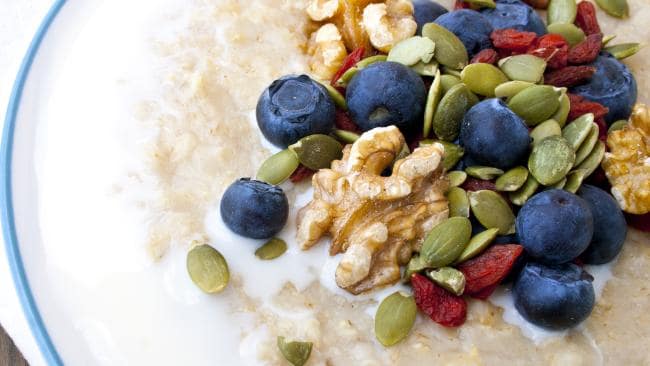 SUPERFOODS
Superfood is a marketing term for a nutrient-rich food that is especially beneficial for health and well-being. It is mostly plant-based food; however, some fish and dairy are thought to be nutritionally dense and thus good for one's health. However, there are no set criteria for determining what is and what is not a superfood.
Superfoods do more than just help you meet your vitamin and mineral needs. It also helps is losing weight and improve the way you feel day in and day out.
Prevent chronic diseases
These foods can help you achieve better health, prevent chronic diseases and they are excellent anti-aging foods. When you add a few of these top superfoods into diet you will benefit many different aspects of your health. Combine these top superfoods with a balanced diet to achieve optimum results. Superfoods take it to the next step, helping optimize your body's ability to function by supplying a mega dose of nutrients.
Nutrients
Nutrients that certain superfoods contain include antioxidants, thought to ward off cancer; healthy fats, thought to prevent heart disease. Fibre is thought to prevent diabetes and digestive problems or phytochemicals, the chemicals in plants responsible for deep colours and smells, which can have numerous health benefits.
Term misuse
The term superfood, in recent years has been used to describe practically every natural food and health food. With the term's constant use or maybe misuse in advertising, food marketing, and the media, it's no wonder why there is so much confusion surrounding superfoods. The term isn't regulated and can be attributed to practically anything. It is a fact that many big-name food product manufacturers take pleasure in exploiting.
Perhaps the best definition we can use to describe a superfood is that it is a nutrient-dense, anti-oxidant rich natural food product that is minimally processed and bioavailable in numerous, potent nutritive constituents. In other words, superfoods are natural foods that contain a hefty amount of raw nutrition.
Few top superfoods
o Wheatgrass should definitely be at the top of your list to remove free radicals or maximise in your diet.
o Cinnamon is high in antioxidants and has been associated with lower blood sugar and cholesterol, improvements in nausea and PMS symptoms, and decreased inflammation.
o Blueberries are brimming with disease-fighting antioxidants and phytochemicals as well as plenty of vitamin C, vitamin K and manganese.
o Avocado is rich in heart-healthy monounsaturated fats, folate, vitamin C and vitamin K.
o Raw milk is actually considered a food. It provides the body with a rich source of vitamins A, D, C and B. It's also loaded with calcium, magnesium, phosphorus, essential fatty acids
o Wild salmon is one of the best foods around. It has a balance of omega-3 and omega-6 fatty acids.
o Sweet potatoes are loaded with beta carotene, vitamin B6, vitamin C, fibre and potassium.
o Coconuts are the new superfood. It helps with losing weight, smoothing wrinkles, teeth whitening, wine making and soothing burns.
o Flax seeds are often prepared as an oil, cold pressed and meal (ground). Flaxseed benefits include having high levels of omega-3 fats that help manage diabetes, cancer, heart disease and inflammation. A diet that is high in omega-3's has been found to fight depression and promote proper brain function.
o Almonds hold the key for many to get more calcium in their diets. In fact, this nut is the richest source of calcium out of all the nuts